Here I will provide you with a tutorial about using Content Aware fill After Effects 2022. When you are an Editor and you have multiple video projects with motion graphics, a lot of times we have faced the issue of some unwanted object in your video. You desperately want that shot and don't want that object. So, you are at the right place.
I will show you how to remove unwanted objects with the help of Content Aware fill After Effects tool. It can replace the object and make a cleaner video. It can also track your object in the moving shot.
Content Aware fill After Effects will eliminate and track the objects in your shot, it will also fill the removed pixels. Below in this Article, you will find how to use content aware fill After Effects 2022.
What is this Content Aware Fill?
The Content Aware Fill After Effects will allow you to delete objects in video and it constantly fills the area where you have removed the objects. It will do a deep scan on every frame to fill the missing pixels by extracting and copying them from another frame in the video.
This feature is using the most advanced options to create footage to the next level. It will also save your video editing time.
Let Start Content Aware Fill After Effects
I will be using the clip where cars are moving. Now I will show you how to remove the car from the shot.
Now Open After Effects, Create a Composition and add your footage.
Then go to Window on top bar > Select Content-Aware Fill. It will show you the Content-Aware Fill panel.
Now Create a mask to use the Content Aware fill After Effects using a Pen tool. It will be on the top bar.
I'm Removing the second car just to make a rough mask on the second car.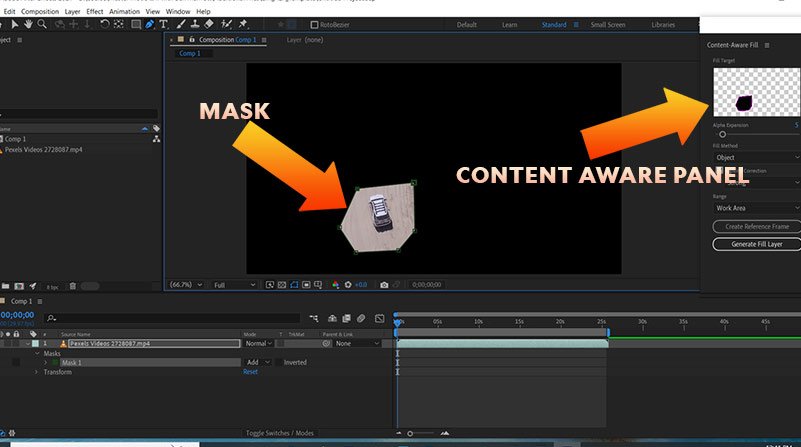 Everything will get black except the mask. No to Correct this click on the drop-down button on the video layer. Then Expand Masks, it will show you Mask 1 Expand it also. Now on the Mode change it to Subtract Everything will show accept mask. It will turn black.
Now you must track keyframes to use content aware fill After Effects. Click on the Stopwatch icon on the left side of Mask Path. Change the mask with a pen tool and make keyframes on the entire clip. Make sure the doesn't show in the clip. It should be hidden behind the black mask.
After adding keyframes just go to Content-Aware panel. Select Alpha Expansion to 5. Fill method to Object. Tick the Lighting Correction and select Strong. Range to Work area.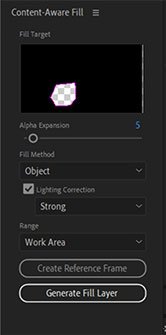 Now click on Generate Fill Layer. After Effects will ask you to save the file, save it. Then the processing will start. It will analyze your footage and replace the select area. This feature is so Powerful it can take your edits to the next level.
After Removing the car with Content Aware fill After Effects. The Edit looks more professional and cleaner. You can also use this feature in your videos.
Conclusion
This Content Aware feature is one of the Powerful features of Adobe After Effects. It can make or break your video. But obliviously it will make better clips for you. Content-Aware fill is mostly used in Adobe Photoshop, now you also use it in Adobe After Effects.
You can also check out our other Tutorials on Adobe After Effects. We have also provided the Adobe Premiere Pro tutorials, where you can see lots of articles. You can also find DaVinci Resolve Tutorials.