Do you have a problem adjusting to the new Adobe Illustrator after Photoshop, after you have realized that you are unable to rotate canvas in Illustrator? If you are using Photoshop there, we can rotate the canvas, but in Illustrator it little difficult to find that option.
But now you can easily rotate the Canvas view at any angle you want. Adobe implemented a new tool in Adobe Illustrator, which is the Rotate View Tool. So let's start learning about the new tools.
How to rotate canvas in Illustrator
You can rotate canvas in Illustrator with these steps, with the use of Rotate View Tool, using an Object, by using an Angle, and usage of Hand Tool. You can also save the view for later use, or you can reset the view if you didn't like it.
How to Rotate Canvas in illustrator by using Rotate View Tool
First, you have to add the Rotate View Tool in the Toolbar by using the keyboard shortcut Shift + H. When you press Shift + H the tool will be selected, then drag it on your canvas to change the rotation of the canvas. While rotating the canvas a hand icon will appear click and hold on that side where you want to rotate and drag the mouse while holding the click button.
A step-by-step guide to rotate canvas in Illustrator
Step 1:
Now Open your Adobe Illustrator and Create a new file by clicking on Create New button. A new window will pop and choose your canvas size. I'm using 1920×1080 px dimensions of the canvas. Then name your document and click Create.
You can also open the existing document by clicking on the Open button, then choosing the file which you want to open.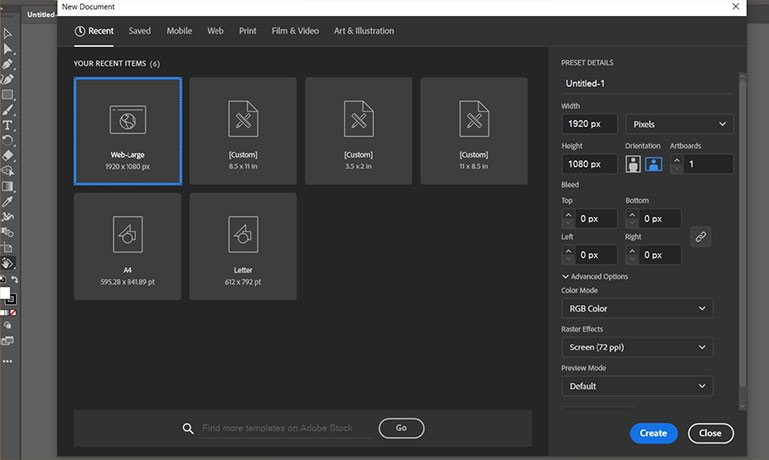 Step 2:
Do some work in Adobe Illustrator or you can choose your existing file. If you want to just try this feature out, then select the Paintbrush Tool (B keyboard shortcut). Now you can draw anything or you can import some images to try to rotate canvas in Illustrator. I'm just importing some icons.
Step 3:
How to add Rotate View Tool in the Toolbar?
Now inside the Toolbar, at the bottom, you will see three dots which is the Edit button of the Toolbar. Click on it, and a new menu with all the tools will pop up. You can select your desired tool, currently, we are finding Rotate View Tool, find it and drag it to the main Toolbar. You will not lose any tool with this its just hide one tool from the bottom and you can add it any time with the same process.
Step 4:
Now select the Rotate View Tool by finding the tool inside the Toolbar, if any situation you haven't placed it inside the toolbar, you can use the shortcut for the Rotate View Tools which is Shift + H
Step 5: Rotate Canvas in Illustrator
You have selected the rotate tool, now click and hold anywhere on the canvas and drag the mouse to your desired position. It will also show you how many angles you have rotated the canvas in illustrator. If doesn't feel satisfied, you can repeat it until you get what you want.
Step 6: How to Save the Canvas View after Rotation
Now if you are happy with your results, you can also save it as a pre-set for future usage. To do that go to the main menu and click on view, inside the drop-down menu select New View, and a new window will appear. Name the view and press OK. You are done. When you want to reuse it, click on View and select pre-set view.
Step 7: How to Reset the Rotated Canvas View in Illustrator
After changing the rotation sometimes, we didn't like it. So, to reset the canvas to its original state go to View and select the Reset Rotate View. All rotations will revert back to the original. The keyboard shortcut for this is CTRL + Shift + 1.